The year's most important electronics show, CES, had an unprecedented number of smart home exhibitions. But which of the latest and greatest innovations in home automation will take off?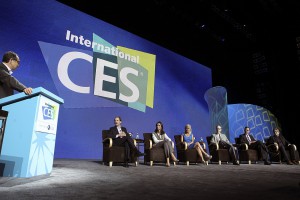 Smart technology has improved all aspects of our lives, and revolutionised the way that many of us experience our homes. When it came to home automation, the CES 2015 showroom didn't let tech consumers down.
"Connectivity" was the word on the lips of top designers and entrepreneurs.
Nowadays, it is easy to stay connected to everything important in your life: all you need is the right app. Staying connected to your home can definitely make your life easier, and even add a dose of security and safety. When thinking about home security, we saw a marked increase in the popularity of new audio and video communication devices used as a replacement for the old fashion doorbell. These enhance your safety by allowing you to see and even talk to your guests before choosing whether to let them in or not.
Another smart device to keep you and your possessions safe is a smoke and carbon monoxide detector. The Nest Protect is one of the most popular devices in this category, but new devices boasting a decade of battery life and Apple HomeKit integration might have the industry leader nervously looking over its shoulder.
Home automation saves money, time and energy.
The CES 2015 exhibition brought smart solutions for those who not only want to save money and energy, but also time. For instance, with the right smart device installed in your home, you can control the level of heat that each room receives. This control system can prove helpful when one family member wants a colder room, and another likes their bedroom heated up. If you have spaces you do not use very often, stopping the heating in those particular rooms is an effective way to cut down on energy costs.
Developers are still keen on smart fridges and washing machines, despite a lukewarm public response.
Smart fridges have been on the agenda at CES for some time now, and while the public has so far been cool on the idea of a fridge that can message your phone to tell you which ingredients you are missing, developers are reluctant to leave any aspect of the kitchen unconnected. And who knows? Perhaps if a device were to come along that could reliably save you time and money by preventing spoiled produce, the appetite of consumers might be stimulated. For now though we are still a few years off a product with mass-market appeal on this one.
Likewise we also have smart washing machine that could make doing the laundry easier than ever before. The concept is simple: you load up your machine in the morning, then activate it remotely via your phone a few hours before you get home from work. By the time you get back, your clothes will be clean and waiting for you to hang them out or pop them in the tumble dryer. Is this a feature that consumers are desperate for? Probably not right now, but as more models begin to adopt the technology, we might see consumers start to enjoy the additional control – provided that the pricing is right.
If you are an early-adopter and you'd like to learn about the newest advances in smart home technology, why not get in touch with our multilingual team? You can reach us on 020 7736 1483.