The upcoming wireless door hinge sensor from NYCE is an innovative new addition into the rapidly expanding market of smart home sensors and home security.
The NYCE Wireless Door Hinge, which can be easily retrofitted within 5 minutes, has been designed to simply report the open/closed status of the doors within your house. Built in ZigBee wireless technology allows for compatibility with your smart home control centre, such as Control4, meaning endless customisation and reporting capabilities. For example, you can be alerted if a door has been opened at night, or you can set your landing lights to come on once you open the bedroom door in the morning.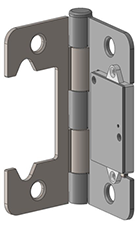 The sensor and wireless technology is all contained within the hinge itself, making it an invisible installation immune to damage and theft. The built-in battery also provides up to 5 years of usage and can be easily replaced.
Satin, nickel and plastic finishes make the hinge ideal for either inside your home, or the surrounding outdoor environment.
Brian Leeners, CEO for NYCE. "NYCE continues to capture the attention of industry with our innovations in mass-market sensor technology and our new patent-pending sensor family will be a disruptive force. These sensors will focus on bringing a much needed simplification to the sensor installation process and a seamless user experience."
For more information on NYCE wireless door hinge installation, home control and security systems, give us a call or contact us here.